This product is Multi Talented! A little concentrate goes a long way. Versatility is an understatement and we've saved your cupboard space and back pocket too – replacing 90% of your cleaning products!
Remove the dirt using this proprietary non-toxic eco-friendly solution and eliminate the 'dirty' guilt at the same time!
Follow the simple instructions, add water and tackle pretty much every surface indoors and out.
This product is refillable!
First time purchaser? Buy a PACK!
Returning customer? Buy a REFILL and save!
REFILL PRICES

PACK PRICES

*

500ml Refill – $20.00
500ml Pack – $36.00
1 Litre Refill – $36.00
1 Litre Pack – $52.00
4 Litre Refill – $130.00
4 Litre Pack – $146.00
REFILL PRICES
500ml Refill – $20.00
1 Litre Refill – $36.00
4 Litre Refill – $130.00
PACK PRICES*
500ml Pack – $26.00
1 Litre Pack – $52.00
4 Litre Pack – $146.00
* PACKS include 3 Spray Bottles.
NB: You can buy additional dispenser bottle, pumps, and scoops separately
We have partnered with Propre – the amazing manufacturer of these products.
(They're one of the many Easy Green products we will host.)
Bear with us while we whizz you over to our store on their site so you can finalize your order.
Thanks for your patience, it'll only take two ticks!
Easy to use, effective results, economical and eco friendly…
Window leaves no cheeky streaks on your sparkly clean surfaces.
Glass and mirrors so crystal clear you will walk into them.
Apologies in advance.
This multi purpose has more uses than a swiss army knife.
Indoor or outdoor, it doesn't care.
Use it on your surfaces in the kitchen, bathroom and floors or take it outside for your car, boat and outdoor furniture.
Heavy on the duties, this guy removes shower screen grime, BBQ grease, car engine oil, paint on brush and wheel rim dirt.
It tackles your most stubborn tasks like a boss -without the attitude or unnecessary emails.
Our active ingredients are effective but safe for a non toxic and non nasty clean.
Windows/ Glass
Benchtops
Ovens/Cooktop
Bathrooms
Tiles /Wooden Floors
Food/ Grease /Carpet Stains
Jewellery
Leather/ Vinyl / Upholstery
Mould/ Mildew
Smoke Stains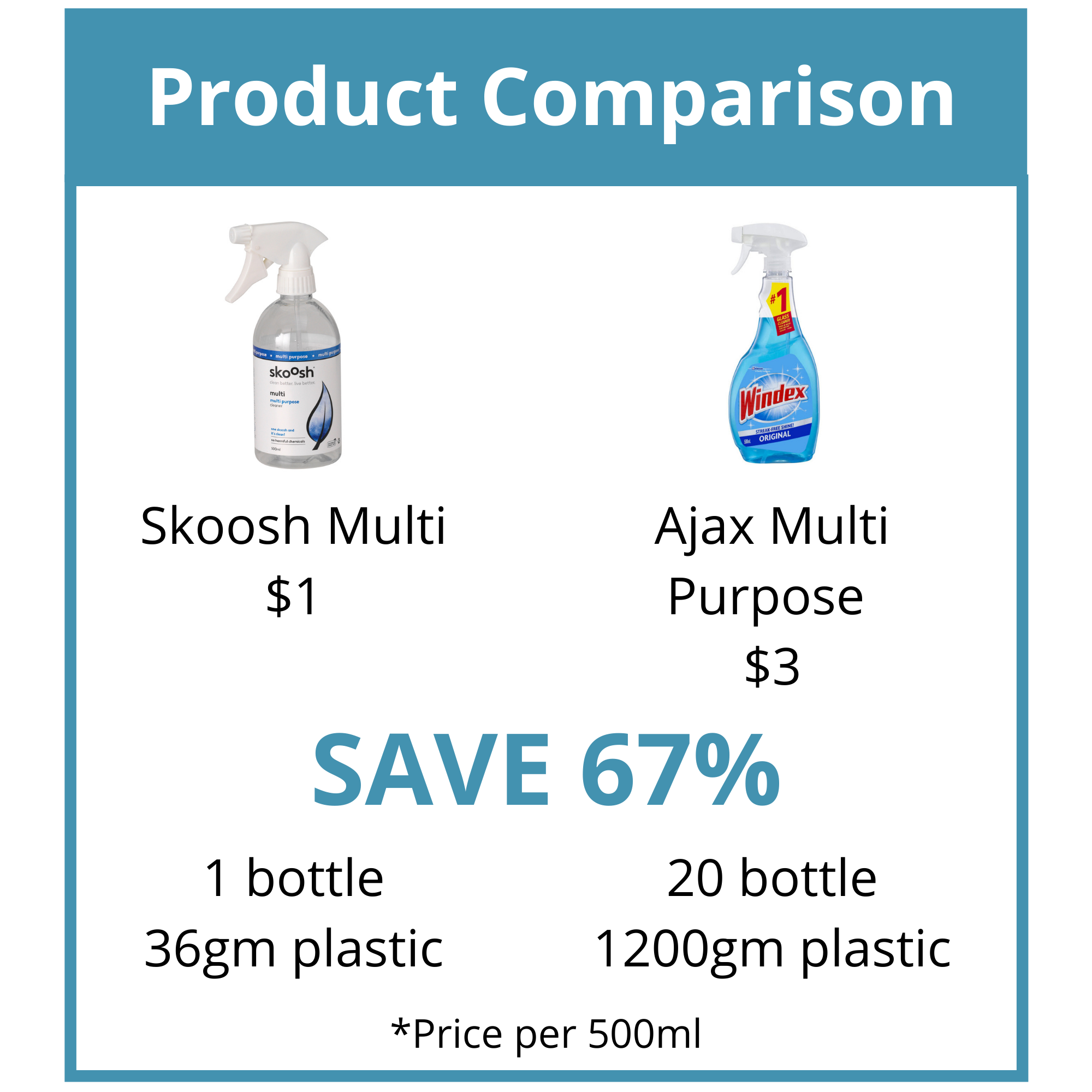 The Propre range uses a proprietary product recipe of similar ingredients as your supermarket alternatives, yet all the nasties are removed! (think ammonia, phosphates, bleaches, chlorine). This approach means it's super effective & eco!
All products are formed from organic compounds, think salts and surfactants. Salts are natural cleaners, and surfactants break down surface tension of water – or in other words, make water wetter! So they are harmless* (*umm, unless you rub it in your eyes – like any salt, or eat it like soap – you'll fart bubbles!) For more info download the SDS (and get a hit of caffeine to keep you awake!)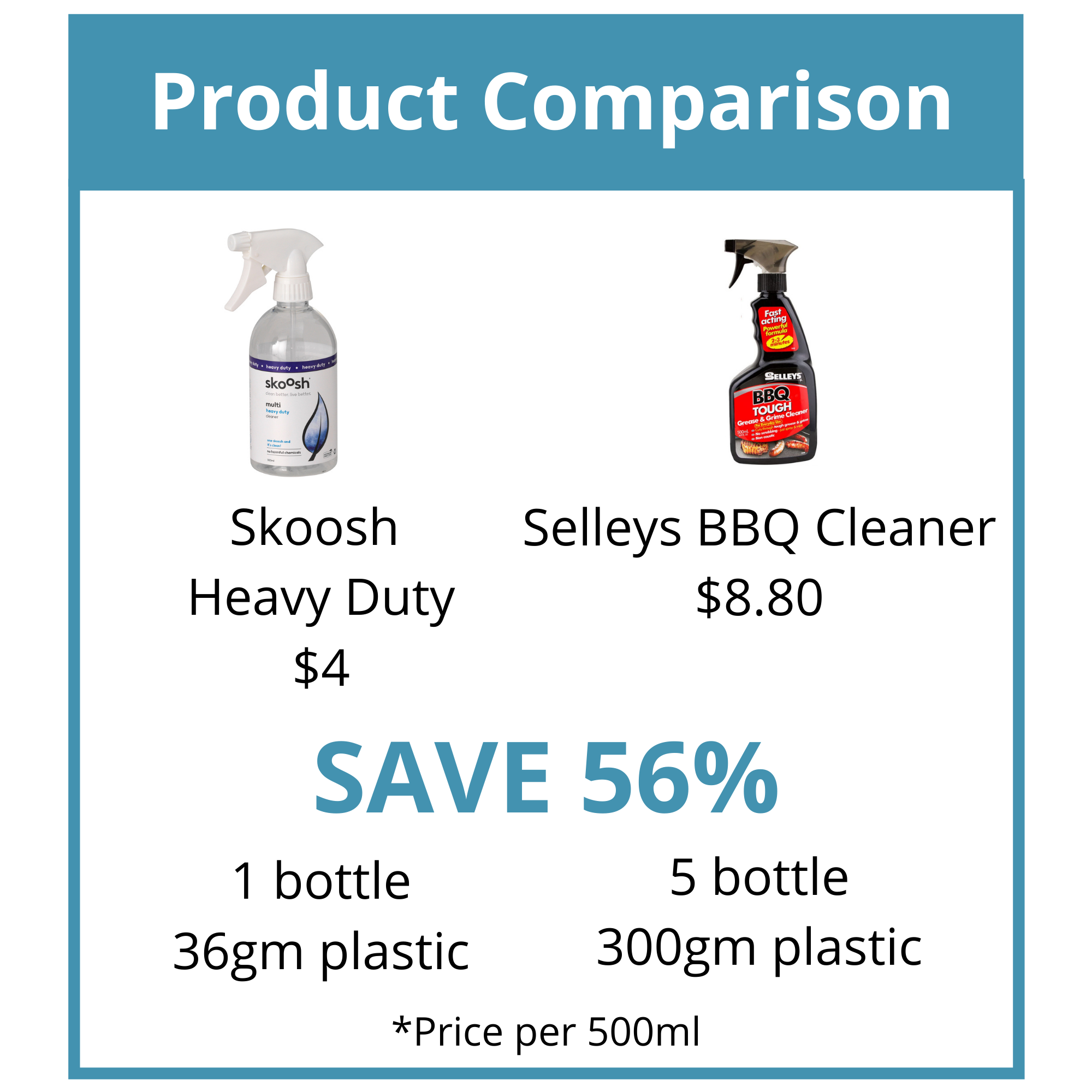 We are researching some fun facts right now – pop back soon
100% Aussie owned
and made
Zero phosphates, fillers chlorine & bleach, Ammonia
Skoosh Multi
Average rating:
1 reviews
Mar 1, 2021
Best Multipurpose Cleaner out there!
I'm a sloppy dude. I rarely clean anything around me. I figure I have a wife for that. After I drank a bottle of multi, I suddenly have the urge to clean everything around me! It's perfect! Now, my wife can finally relax while I clean the house, the kitchen, and the garage. I even bathe sometimes now. Thanks Easy Green!