Don't fret if your toddler likes to lick surfaces or eat off the floor – Fresh used as  hospital or commercial grade is still safe for your family.Fresh banishes 99.9% of household germs.Fresh is effective against e.coli, staph and salmonella.
This product is refillable!
First time purchaser? Buy a PACK!
Returning customer? Buy a REFILL and save!
REFILL PRICES

PACK PRICES

*

500ml Refill – $20.00
500ml Pack – $26.00
1 Litre Refill – $36.00
1 Litre Pack – $42.00
4 Litre Refill – $130.00
4 Litre Pack – $136.00
REFILL PRICES
500ml Refill – $20.00
1 Litre Refill – $36.00
4 Litre Refill – $130.00
PACK PRICES*
500ml Pack – $26.00
1 Litre Pack – $42.00
4 Litre Pack – $136.00
* PACKS include 1 Spray Bottle.
NB: You can buy additional dispenser bottle, pumps, and scoops separately
We have partnered with Propre – the amazing manufacturer of these products.
(They're one of the many Easy Green products we will host.)
Bear with us while we whizz you over to our store on their site so you can finalize your order.
Thanks for your patience, it'll only take two ticks!
Our active ingredients are effective but safe for a non toxic and non nasty clean.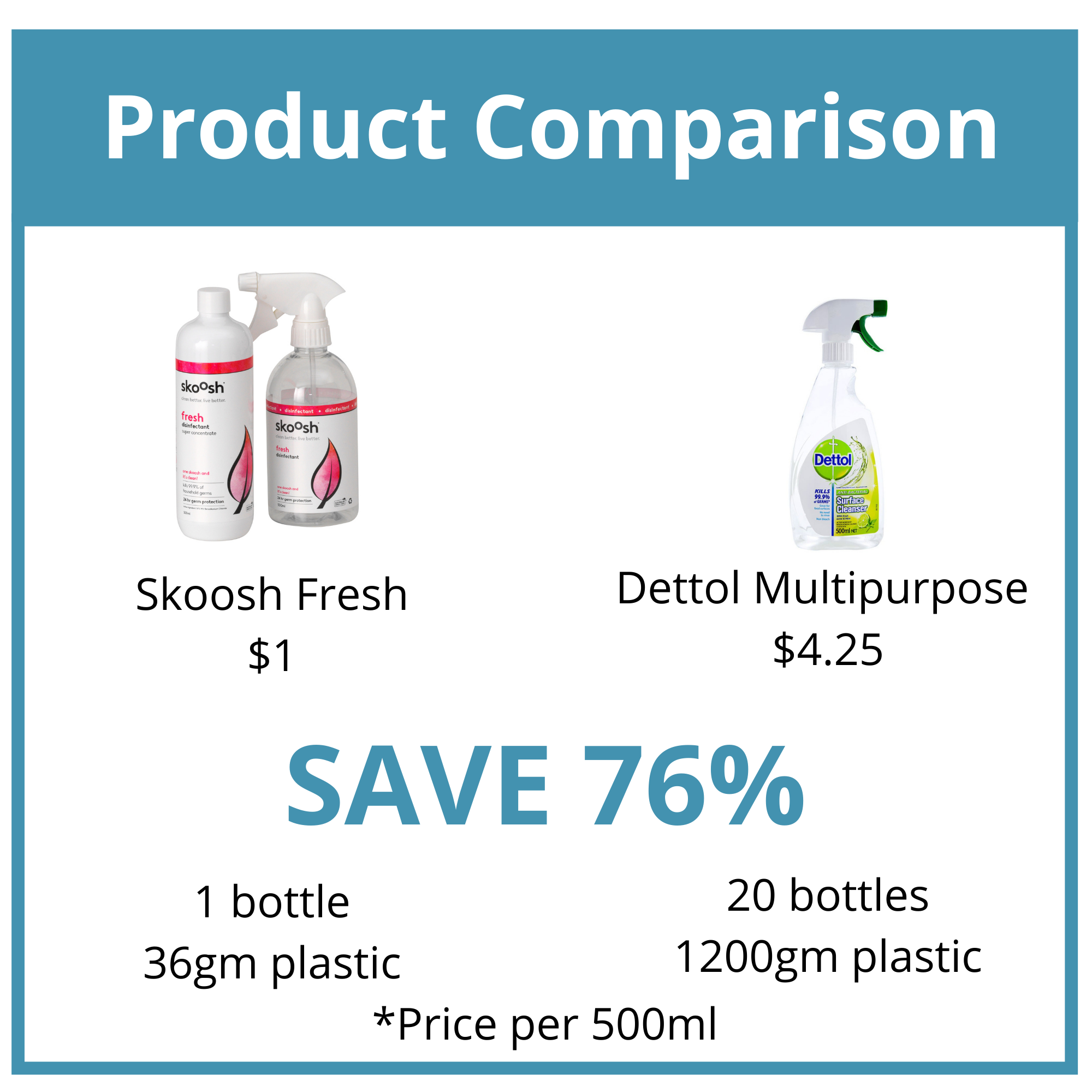 The Propre range uses a proprietary product recipe of similar ingredients as your supermarket alternatives, yet all the nasties are removed! (think ammonia, phosphates, bleaches, chlorine). This approach means it's super effective & eco! 
All products are formed from organic compounds, think salts and surfactants. Salts are natural cleaners, and surfactants break down surface tension of water – or in other words, make water wetter! So they are harmless* (*umm, unless you rub it in your eyes – like any salt, or eat it like soap – you'll fart bubbles!) For more info download the SDS (and get a hit of caffeine to keep you awake!)
Use as per the user guide for floors, kitchens, bins, bathrooms, laundry washing, food containers, mattresses, microwaves, pet stains, sinks, baby nursery, toilets, toys.
We are researching some fun facts right now – pop back soon
100% Aussie owned
and made
Zero phosphates, fillers chlorine & bleach, Ammonia
Skoosh Fresh
Average rating:
0 reviews